A.C Voltage Stabilizer
Servo Motor Control System
"2KVA To 200 KVA"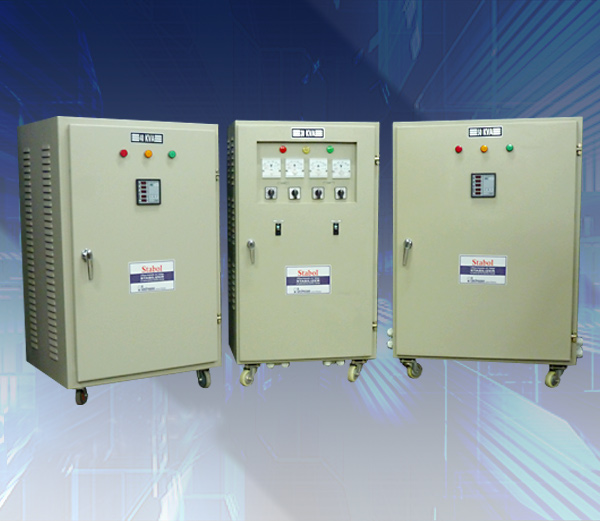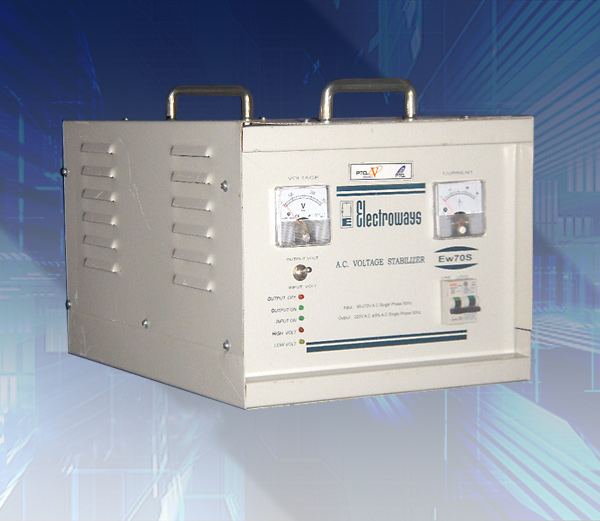 Introduction
We offer to our clients a high quality range of Servo A.C Voltage Stabilizer that offers high utility and effective performance. Our range of Servo Voltage Stabilizer is ideal for maintaining a continuous and stable supply of A.C. power to electronic systems.

Electroways voltage stabilizers with Toroid's core technology in particular, use 100% copper wire and special silicon sheet for extremely low line losses. The modern roller carbon brushes help to run smooth, quick response, good cooling, limitless durability. Large scale production systems, modern test equipments, quality management according to ISO 9001: 2008. It can use in the harshest power. It is the result of 15 years of research, production, and continuous improvement. The experience and technological know-how has created the product durability, reliability and savings best meet the demands of field.

The servo voltage stabilizers have been designed for hard conditions. The voltage stabilizers can be produced with different features for your needs. The servo voltage stabilizer produced for protection from lighting, high voltage drops, high voltages, flickers and if needed harmonics as well.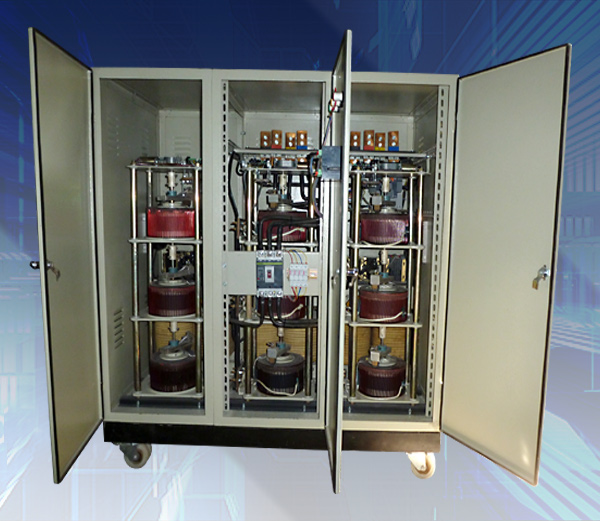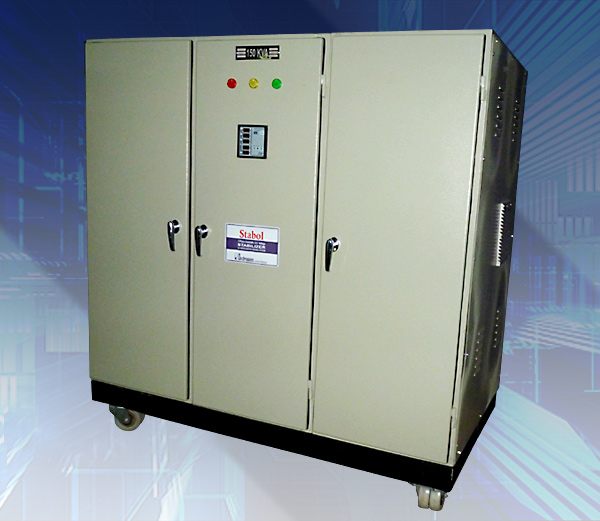 Servo voltage stabilizer save the life of equipments installed at
* Factory, hospital, hotel and apartment building main entrances.
* And other places where stable voltage is required.
* Magnetic devices. illuminating devices.
* Sensitive photograph studio equipment and devices.
* Electroplating equipment.
* CNC machine tools. heating, cooling air-conditioning equipment.
* All kinds of electronic embroidery weaving looms.
* Data centers
* Industrial zones
* Wired and wireless communication devices.
* Automatic welding machines.
* Modern industrial equipment.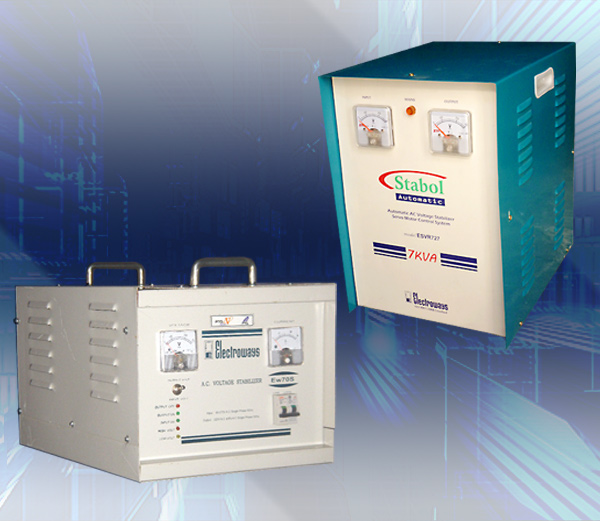 TECHNICAL SPECIFICATIONS

Electroways 3 phase voltage stabilizers regulate mains voltage and brings many advantages.

» Power Range 2-200 KVA
» 3 phase input 3 phase output
» Wide power and voltage interval
» Fast Regulation
» High reliability and Smart Driver
» High efficiency
» Safe and economic usage
» Over current and overload protection (Optional)
» Analog displayed status, input & output measurements
» 1 years warranty
Electroways 1 Phase Voltage stabilizer are D.C motor drive structure, heavy duty devices which regulates mains voltage for critical loads.
All the stabilizers with electronic controls have 1 year warranty against production and technical defects. All the materials used in the regulators have high quality standard.
» Power Range 2-200 KVA
» High reliability and Smart Driver
» High efficiency
» Safe and economic usage
» Over current and overload protection (Optional)
» Analog displayed status, input & output measurements
» 1 years warranty
Specifications
* D.C Motor Controlled Automatic A.C Voltage Stabilizer
Single Phase

Three Phase

Input voltage

±7% to ±32% of rated input supply

2KVA to 30KVA

220 ± 1.5%

49Hz ÷ 62Hz

Single Phase + N + GND

95%

More than 20MΩ

1500V for 1Minute

Upto 50oC

Voltmeter Analog

Plug / Socket

Fuse / Breaker

No additional waveform distortion

95%

±7% to ±32% of rated input supply

6KVA to 200KVA

380 ± 1.5%

49Hz ÷ 62Hz

Three Phase + N + GND

95%

More than 20MΩ

1500V for 1Minute

Upto 50oC

Voltmeter Analog

Plug / Socket

Fuse / Breaker

No additional waveform distortion

95%

Capacity

Output voltage

Frequency

Phase

Performance

Insulation resistance

Di-electric Strength

Ambient Temperature

Display Mode

Input / Output Setting

Output Short Circuit Protection

Waveform Distortion

Relative Humidity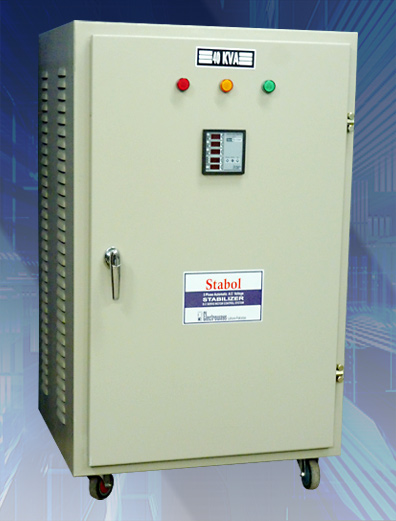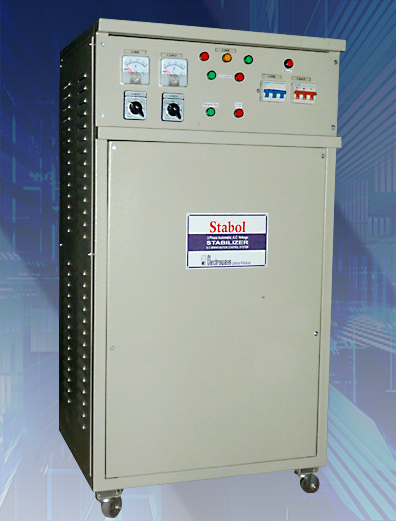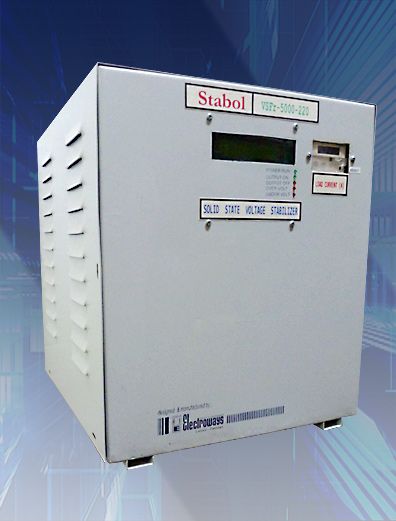 Features
Use best quality copper wire and special silicon core to reduce line losses.
The modern roller carbon brushes help to run smooth, quick response, good cooling, limitless durability.
The principle servo control helps to stabilize output Volt.
Low power consumption, equipment running enough capacity help in energy-saving.
Over loading protection.
Over voltage protection