Always insist on "Stabol" Quality Products
Battery Chargers
Automatic Constant Voltage Type, Thyristor Controlled Battery Chargers
INTRODUCTION
Battery chargers are used in combination with battery sets to make uninterruptible DC power supply system. These system are required for a diverse range of critical applications such as:
Control of switchgear equipment in electrical power generation and distribution networks.
Supply of power for telecommunication system.
Operation of process control and regulating equipment in industry.
Automatic emergency lighting system for hospital, offices & factories etc..
Powering of inventors for making AC un-interruptible power supplies (UPS) which are used in high performance data processing, industrial control and communication systems.
Railways signaling & traffic control systems.
Electroways Battery chargers can also be used as stand alone rectifiers (without batteries) for direct operation of DC load which do not require uninterrupted supply. Filters can be provided in such cased to maintain ripple within acceptable limits.
PRINCIPLE OF OPERATION
The mains supply is stepped down/up by a transformer, converted to DC by a bridge circuit considering of thrustors and diodes, filtered, and then converted to the charger output terminal. A voltage feedback circuit maintains the output voltage by adjusting the thrustors firing angle (Pwm Control) another feedback circuit monitors the output current, and in case of overload conditions a reduction in the output voltage so that the rated charger current is not exceeded . This "fold back" characteristic for limiting the output current protects the charger against overload condition.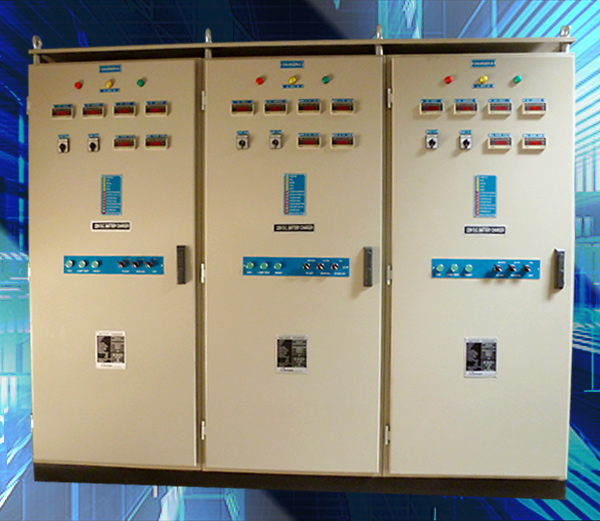 In automatic mode, the charger normally feeds the load and also keeps the battery in float charged condition. However, in case of mains failure the battery starts feeding the load, and gradually thus gets drained. When the mains supply is restored the batteries are automatically recharged, until the charging current reduces to a preset limit which indicates that the battery has been fully charged. It then switched to the float mode, and remains in this condition until the mains supply is interrupted again. In manual mode, the charger output voltage can be set by the operator to (adjustable) float or boost value. For safety, the current limiting feature is kept operative in this mode also.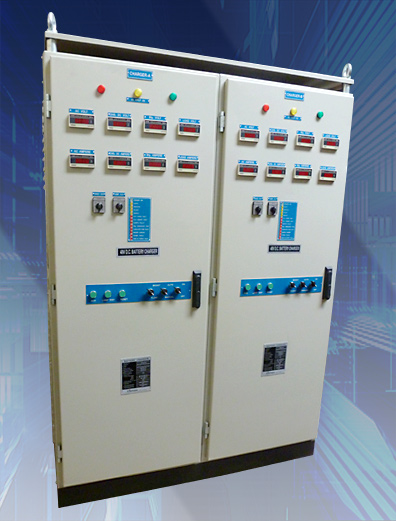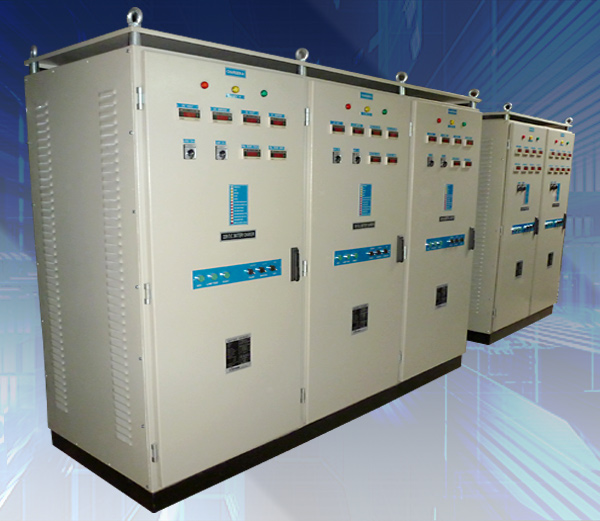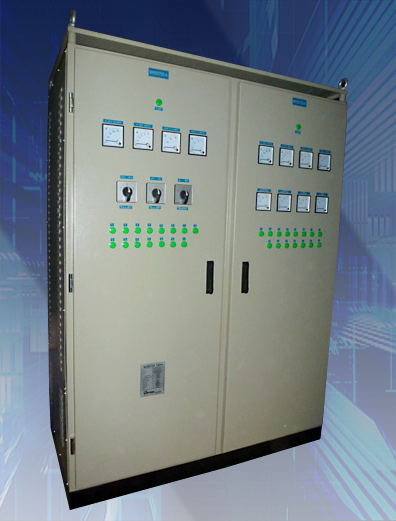 GENERAL FEATURES
Ideal for both lead-acid and Nice batteries
Parallel operation of two or more similar units is possible.
Main supply voltage indications (with selector switch for 3 phase model)
Output current and voltage indication.
Optional output voltage regulator for stable supply to auxiliary load.
Auto / manual and boost / float mode selector switches and lamps.
Circuit Breaker and fuse protection for input supply, charger output and optional regulated load supply.
Adjustable output current limiter for protection of charger against overload condition.
Soft start provision for gradual increase of output voltage up to float / boost voltage.
Alarms/Indications incase of battery over voltage / under voltage, charger failure, mains under/phase failure (in case of 3 phase charger )
Lamp test option
Electroways Battery Charger's transformers are wound with electrolytic prime grade conductor to minimize power losses, Out equipment are designed liberally as per capacity and are ideally suitable for marginal over loading conditions. We use SCR technology for protection and regulation.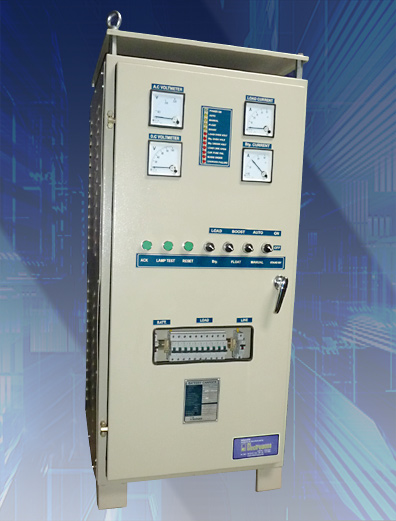 GENERAL FEATURES
Input supply voltage 1 phase model
3 Phase model

220/240 + 10% (or as per requirement)
380/415V + 10% (or as per requirement)
+20% (for telecom)

Supply frequency
Nominal output voltage of charger
Rated max. Output current of charger
Duty cycle at full load
Float charger voltage setting range for ni_cad battery
Boost charge voltage setting range for ni_cad battery
Float charge voltage setting range for lead acid battery
Boost charge voltage setting range for lead acid battery
Regulation of float / boost voltage for 0 to 100% chane in out put current

50Hz + 5%
12/24/48/60/110/220/340 VDC
10 to 1000AMP as specified
100% Continuous
1.2 to 1.44V / Cell
1.32 to 1.56V / Cell + 1%
2 to 2.4 V / Cell
2.2 to 2.6 V / Cell
+1%

Less than 3% or as required
Less than 1% for telecom

Manual charging current limit
Insulation test voltage (for 1 minute)
Ambient temperature for rated current
Relative humidity
DF protection
Protection class

Upto 110% of rated maximum
2KV RMS, 50Hz
-20 to 50 Degrees C
0 to 100%
Grade N
IP (or as pre requirement)